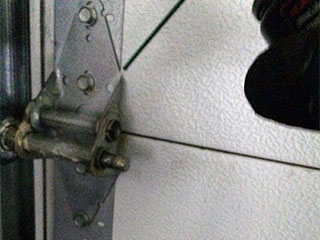 The garage door not opening or not closing can be the result of many of the common faults. A lot of times, garage door breakdowns occur because certain parts have worn out. That means that, in many cases, issues can be prevented. Or at least delayed. Wear and tear can be significantly reduced with a little regular garage door maintenance. Your automatic overhead door system is complex. It should only be handled by pros like the team at Garage Door Repair Miami. But there are still several ways you can improve the service life of your garage door. Remember, a little maintenance goes a long way.
Garage Door Maintenance Done Right
Your automatic garage door must be able to move smoothly. Otherwise, the moving parts will wear out much faster. Do this before taking care of any other garage door maintenance work. Spend some time clearing any built-up grease or dirt from the moving garage door parts. This includes the rollers, but also the tracks they move inside. Garage door tracks tend to become blocked with debris and lubricant residues over time. This will gradually affect the movement of the rollers. It can end up in a garage door off track scenario. After you're done cleaning and clearing the tracks and rollers, give the latter some lubrication. Do the same for the garage door hinges while you're at it. Do NOT lubricate the tracks themselves though. That will have an adverse effect very quickly.
How To Lubricate Garage Door Springs
All garage doors are fitted with heavy-duty springs for lifting and lowering the panels. These springs aren't designed to last forever. Some will last longer than others, depending on the type, manufacturer, and how often they're used. With garage door torsion springs, maintenance plays a huge role. You can extend their working life with regular lubrication. But first, you need to make sure they're in good shape and aren't about to break. If you're uncertain, leave the job to a garage door repairman near you. Do not deal with garage door springs if you don't know what you're doing. Before lubricating the springs, clean them carefully. Then, use a white lithium-based lubricant on the torsion spring coils. This reduces friction and therefore makes torsion springs last longer. It's not protection against corrosion, though. So while you're at it, check to see if the galvanized springs zinc coating is damaged.
How To Test Garage Door Sensors
All modern garage door openers utilize a variety of safety features. It's essential to test those regularly to prevent accidents. Firstly, you need to check the garage door sensors. These are mounted on either side of the door near the bottom of the vertical tracks. Wave a broomstick between the photoelectric eyes while the door is closing. If the garage door reverses, the sensors have detected the obstacle properly. If it doesn't… some alignment adjustments are needed.
Test The Garage Door Opener Auto-Reverse Mechanism
The garage door opener should also have a force-resistance auto-reverse feature. You can test it by placing a block of wood under the open door. It should be short enough not to block the invisible beam of the garage door sensors. Now try closing the automatic garage door. If it reaches the block of wood and then reverses after touching it, the auto-reverse mechanism is working correctly. If the garage door opener is not working properly it will keep trying to close the door. Your owner's manual should have instructions on force limit adjustments. But if you're not sure or if that doesn't solve the problem, contact Garage Door Repair Miami for help.
Garage Door Painting and Cleaning
To ensure your garage door panels stay in good repair, you should clean and paint them regularly. For vinyl and metal garage doors, a bucket of soapy water and a cloth should be enough to remove any built up stains and dirt. For wooden garage doors, you may need to spend some time sanding down the panels. After that, you can apply a wood sealant to prevent the material from degrading. A nearby garage door company (like us) can help with dent repair and panel replacement if you need those services. Your door panels will benefit greatly from cleaning. It will also preserve their curb appeal.
Seek Professional Garage Door Service
For anything you're unsure about, consult with the team here at Garage Door Repair Miami. Broken springs and various opener problems are some of the many different issues that you need to leave to nearby technicians. While some aspects of garage door maintenance are very DIY-able, remember that this type of system is still complex. You should only have professionals repair your garage door when a problem arises. Avoid risks and dangers by leaving the more serious stuff to the nearest pros. Call Garage Door Repair Miami for same day repairs or any other service you need.