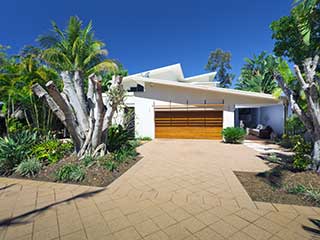 Any garage in Miami, FL, is improved by adding an automatic overhead door. These systems give you the best in convenience, comfort, and security, and come in all sorts of styles. With access to parts from eight major manufacturers, our team can put together a custom garage door system made for you in particular.
Garage Door Installation In Miami
Adding an automatic overhead garage door takes mechanical expertise and some heavy lifting. Before getting garage doors installed, they need tracks, lift cables, and spring housing assemblies ready for them. If your garage has never had an overhead door before, our team will start out by measuring the opening. Tracks of the right length, and a door of the proper height and width, or important. Then, they can assemble your system out of components of the right size, with your choice of manufacturers, models, and materials.
Garage Door Types And Materials
The three major factors to take into account when choosing a new garage door model are durability, weight, and cost. Some materials and structures (such as hardwood and steel) provide more durability against impacts, while others (like aluminum or polymer) are more resistant to water damage and corrosion. Heavier doors require stronger openers to lift them, which also affects the total cost. A less critical, but still important, factor is aesthetics. Would wood or metal look better in your neighborhood? Perhaps a faux-wood finish over a layered steel and polymer door would do the trick? Garage Door Repair Miami can provide all of those options and many others.
Garage Door Opener Installation
You should choose an automatic opener with a motor strong enough to easily lift your door. If it can only barely lift the door, your opener is likely to wear out long before its time. Garage door opener types include chain, screw, and belt drives, as well as space-saving wall-mounted units, each of which requires a different degree of investment, maintenance, and noise tolerance. Asking which garage door opener is best, in general, is an unproductive question. The best type for you depends on your own needs and preferences, the weight of your door, and the size of your garage. Different garage door opener models can come with remote, wall-mount, and smartphone controls, as well as Homelink.
Garage Door Spring Installation
If there's any one aspect of garage door installation and care you should leave to the professionals, it's the springs. Learning how to install garage door springs safely is something that takes time and investment. Replacing a broken spring is even more dangerous. However, without a good pair of springs, your garage door won't be moving very far! These parts help the opener with the difficult job of lifting the heavy garage door. Without them, the opener wouldn't last long.
Call Garage Door Repair Miami Today
For low-cost garage doors and installation services for them, you need only pick up the phone. Get a free estimate from a nearby garage doors expert and see what type of system best suits your needs and budget. With service available anywhere near Miami, every local homeowner can call us for a free quote. Get your garage doors installed by a local expert with over a decade of experience.