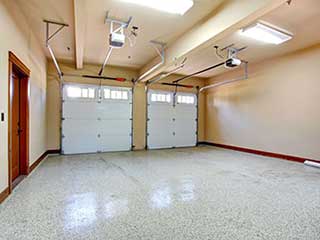 If you had to pick the most intelligent part of your garage door system, it would probably be the opener. It's essentially the brains behind your overhead door. The unit has to work perfectly with almost every other component, from the door to the springs to the safety sensors. This means that even a small problem can quickly develop into something more difficult to fix. After dealing with a vast range of electric opener problems for so many years, our accumulated wealth of experience now enables us to quickly find and fix any related issue you may deal with.
Why Isn't My Opener Running?
This type of problem could have various causes. From physical damage to the motor or the hardware parts of the drive system to electrical glitches that cause the circuit board or some of its wires to fry. Opener troubleshooting isn't a simple task, and while some aspects of it you can do yourself, like checking the remote control batteries and inspecting the power cord, you should leave the rest to professionals. Attempting DIY repairs with your garage door opener is not a wise decision, as you could damage some other components, not to mention, you could accidentally get hurt!
Fast and Safe Opener Repair Services
We know how awkward it can be to deal with a faulty door system, which is why Garage Door Repair Miami will work quickly to get your problem fixed. Whether you've got a broken drive gear or a faulty circuit board on your hands, the technician that will come over to your house will have the skills and experience to deliver a fast and reliable solution.
Preventing Problems From Developing
Just as with any other complicated system, garage door openers can develop problems that worsen over time. It may not be obvious to start with, but a wide variety of problems can worsen if not addressed quickly. A good way to avoid breakdowns and accidents is a top-notch maintenance service that catches faults before they become bad. To be able to deal with problems on the spot, Garage Door Repair Miami's technicians usually bring a full set of replacement parts with them on every service call, so they'll also be able to swap out damaged components on the spot.
Safe & Professional Installation Near You
In addition to providing emergency repairs and maintenance services, one of the added services you can get from us is to have a new garage door opener installed with safety and precision. LiftMaster, Chamberlain, and Genie are some of the main brands whose models you can choose. With new technologies introduced every day, using your smartphone to control and even monitor your door is no longer a pipe dream.
Which Is The Best Garage Door Opener?
The major types of models can be divided based on some basic qualities. Chain drive openers are the loudest out of the three main types, but also the strongest (generally speaking). Models that use this type of drive system also tend to be cheaper than their counterparts. Belt drive openers are often more expensive, but they are by far the quietest option. Their reinforced belt may not be perfect for very heavy doors, though, unless it's particularly strong. Screw drive openers don't need a lot of maintenance, due to the fact that they consist of fewer moving parts. They are the fastest type of unit, but they aren't silent, and temperature shifts can affect their performance on rare occasions.
Schedule a Service Appointment With Local Experts
If you need help with your opener, whether it's a quick fix or expert maintenance, or if you need a new unit entirely, we can help - contact Garage Door Repair Miami today to arrange an appointment.
More Information You Can Use
What is the best garage door opener?
Some of the best garage door openers come from manufacturers such as LiftMaster and Chamberlain. Both have openers with exceptional performance, reliability and safety features. Take a look at the LiftMaster Elite Series 8500 wall mounted opener and the Chamberlain B503 Ultra-Quiet belt drive model for particularly highly rated options. There are of course plenty of other opener models that are likely to be just as excellent for your needs, so check the different features to see which one will best suit your garage door. There are several factors to be considered before making a decision. Get in touch with us if you need help deciding, buying, and installing the new unit.
How long do garage door openers last?
Automatic openers are designed to last quite a lot. However, they have the huge task of operating a very heavy door so regular visual checks and good maintenance will extend the lifespan of your opener. Most models will last around ten years, however, if you schedule regular maintenance checks and ensure minor repairs are done on time, your opener can last fifteen years or even more.
You can also count on us for:
Opener Sensor Replacement
Extension Spring Adjustment
Garage Door Tune Up Services
Broken Garage Door Spring Replacement