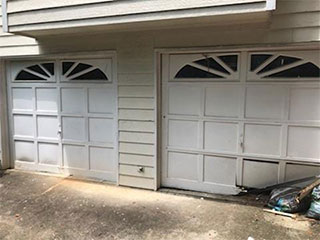 Nobody wants to deal with the hassle of a garage door that barely wants to work when you most need it to. You should be able to rely on your door to open quickly, and shut securely to keep your belongings and home safe. Let us ensure that this is the case with fast and thorough repairs to get your door functioning like it's new again. The longer a door continues working with worn or broken parts, the worse the damage will become! Getting it taken care of now will save you from a lot of future difficulties.
Garage Door Opener Repairs
Whether you have a Chamberlain, Genie, or LiftMaster opener, Garage Door Repair Miami is deeply familiar with all issues. If the door does not open or the sensor lights are blinking, or some other problem is afflicting your opener. Leave opener troubleshooting and replacement to us and ensure that any problem you have is handled by nearby pros. From garage door opener repair to upgrading old units in favor of new, modern models. Whether the motor, circuit board, or drive system give you problems, Garage Door Repair Miami can help. Your opener is in excellent hands.
Garage Door Track Repair and Replacement
It's common for garage door tracks to get bent and warped over time. They can even get tweaked from an accidental car bump. In either case, Garage Door Repair Miami can either repair the problem or replace the track entirely. Track realignment and adjustments are another service venue that's available. Leave any needed work to the nearest track repair and replacement experts. Your garage door will open and close with no issues after the job's done.
Garage Door Roller Replacement
Rather than the garage door track, the real problem may be with the rollers inside of it. They can wear down and rust over time which makes it more difficult for your door to move along the track. A garage door off track scenario is one where one or more of the rollers pop out. There's a solution, of course. Garage door rollers can be replaced with newer ones, to ensure the door moves smoothly once again. Whether you have nylon rollers or steel ones, Garage Door Repair Miami can assist in getting the garage door back on track.
The Nearest Garage Door Repair Company
When overhead door problems start cropping up, there's a nearby garage door repair service provider to call. From opener troubleshooting to broken spring replacement and so much more. Any problem you have, Garage Door Repair Miami can handle. The service hotline is open 24/7, so get in touch with us anytime, any day, for same day service. Weekends included.
Extra Information:
Garage door not opening manually. Why?
When you find yourself facing this type of problem, odds are there's a broken spring. A residential garage door can be very heavy, going so much as to weigh upwards of two or three hundred pounds on average. This requires strong muscles to move, and the garage door springs are the parts of the system that function as those muscles. When one breaks, however, trying to open the door can be not just hard, but dangerous too. If you suspect a garage door spring is broken, do NOT try to use the door. Call us to get it replaced as soon as possible.
How much does a garage door weigh?
The answer varies depending on size and material. Steel door panels will weigh much more than ones made from aluminum or vinyl, for example. Certain types of wooden garage door panels can be heavy as well, exceeding two or even three hundred pounds, as a set. The larger the door, naturally, the more it will weigh. A single car garage door can easily reach two hundred pounds and far more, and a double car garage door will, obviously, double that. The weight of the door will determine what types of springs and cables it can use, so never try to replace those if you're not a hundred percent sure which ones are suitable for your system.
Garage door roller popped out. What do I do?
The rollers help the door move along the tracks, so when one or more rollers pop out, the door will undoubtedly get stuck. At the very least, it won't get past a certain point. Dealing with this issue can be dangerous, as you're still dealing with a heavy garage door. The popped roller needs to be inserted back into place, but if there's damage to the track then that will need to be repaired beforehand. It's usually best to leave this sort of project to professional garage door technicians.
Other Garage Door Services:
Garage Door Sensor Adjustment