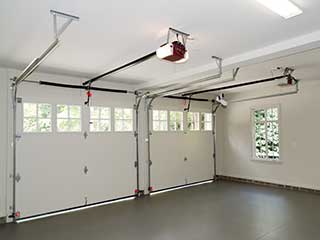 Manually lifting and lowering your overhead door isn't something you want to be doing every single day. That's why so many homeowners are opting to get an electric garage door installed, which makes use of an electromechanical opener to open and close according to your will. You need only use the remote or your smartphone and you can control your electric garage door as you see fit.
Some Electric Garage Door Problems
Unfortunately, it's not all sunshine and rainbows. Automatic garage door systems can experience issues due to their complexity, as well as due to the fact that these are intricate mechanical systems with many moving parts. Putting aside things like bent tracks and broken springs, and focusing solely on the electric garage door opener as a potential source of problems, here are some of the things you can expect:
The door doesn't open all the way. While this can happen due to a blockage in the tracks or loose spring tension, the electric opener has travel limit switches and if they're not set correctly it could prevent your door from fully opening.
The door won't close. A common occurrence that can result from a few different things. The travel limits mentioned above can cause the door not to close completely, but rarely, and they aren't at fault when the electric garage door reverses when you order it to close. That is probably due to misaligned safety sensors.
The opener won't run. If you find yourself staring at a closed garage door one morning pushing the same button over and over again with no results, then you may experiencing an electric garage door opener problem. Many different things can be responsible for this, including the circuit board or simply dead remote control batteries.
Electric garage door opens and closes erratically. This definitely seems like circuitry issues, or some fraying electrical wires or detached internal parts. At least, that makes more sense than a ghost in the machine.
The electric opener makes noise but won't move the door. This type of problem often ends up being something wrong with the motor. Either that or the drive system. If all the opener's lights are on and the sensors are aligned correctly, then this is very likely the source of the problem.
Electric Garage Door Repair Solutions
From replacing damaged motor gears to entire circuit boards, your electric garage door couldn't be in better hands. Our professional service technicians here at Garage Door Repair Miami have the know-how and the skill to handle any and all problems. Leave all your electric garage door needs to us, whether you require emergency same day repairs or to have a new door installed. Contact us today to get the best service near you, Sunday through Saturday.
More Information You Can Use
What garage door is best?
There are all types of overhead garage doors, with a huge range of noise levels, degrees of security and weather resistance, and prices, not to mention aesthetics. There's no such thing as "the best" garage door in objective, universal terms. There's only the best door for your specific preferences, needs, and priorities. Those who want a clean and elegant look may opt for classic wooden garage door panels. Those in favor of more security will probably lean towards reinforced steel panels. Brands like Clopay, Amarr, and Windsor have all sorts of top quality models to offer, which can suit every person's needs and budget. Contact us to get a free estimate on the cost of a new garage door installation (model+labor).
Garage Door is broken. Now what?
If the damage is limited to just one section of the garage door, and the door is of a model that's still in production, you may not need to replace the entire thing. Often, you can get replacement hinges and panels from the manufacturer and install them in the place of the broken parts for much less expense. If the damage is extensive, however, or the parts required are no longer purchasable, you may need to replace the entire door. In any case, it's worth it to let a professional garage door technician take a look. Many seemingly simple problems that involve broken parts can turn out dangerous. Best to avoid DIY repairs whenever you can.
Garage door is stuck what do I do?
If your automatic opener isn't doing its job, you can try opening or closing your garage door by hand. The manual release should be a cord or handle with a red tip attached to the door mechanism. If your door is stuck partially open when you throw the release, you should make sure to wedge something underneath it to prevent it from free falling. Be careful to raise or lower it slowly, and don't do it by yourself. It's always recommended to get nearby garage door pros (like us) to lend you a hand when these sort of problems arise.