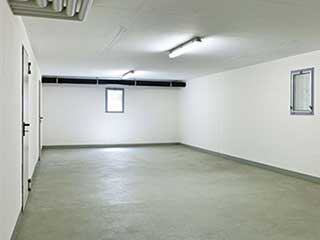 The garage door springs are small but critical parts of the mechanism. They use the weight of the door panels and use tension based force to help you or your opener move it. Without a spring the garage door would be a lot more difficult, or even impossible to open. Unfortunately, because of the wear and tear they go through they won't last forever. Over time the metal will weaken, and your springs will eventually break. Replacing them at the right time can save you a lot of hassle, and ensure you're not stuck with a garage door that doesn't open.
Can You Open a Garage Door With a Broken Spring?
The answer is maybe. Or rather, the answer is - better to avoid the risks. While it may be possible to open a garage door with a broken spring, the dangers usually aren't worth the answer. It's far safer and smarter to get a broken spring repaired or replaced (by professionals) than to try to open the door like that. Due to the important part garage door springs play, even one not working right is dangerous enough. Broken spring replacement is a must when dealing with this type of problem. Better to be smart than rash.
Two Garage Door Spring Types
Torsion springs are the newer of the two types. They work by twisting and unwinding to generate torque that is utilized to help the panels rise. Because of their increased size, units of this type are more flexible and durable, and are considered safer. Extension springs work by stretching as the door lowers and contracting when it rises, which assists in moving the panels. They are interlaced with safety cables to secure them in place in the event that they break.
Garage Door Spring Adjustment Is Due
There are two easy methods of testing to see if you need to replace the spring. The first method is to disengage the automatic opener and manually lift the door halfway open. If the spring is okay, the door will be able to stay partly open without much effort. However, if the garage door keeps rising or seems to sag, adjusting the spring tension will be required.
Broken Spring Repairs Done Right
Fixing a spring that broke is a task best left to the experts. Why? Because of the dangers (read the succeeding paragraph to learn about that). Replacing a broken garage door spring involves safely removing what's left of the damaged unit and installing a new spring. This installation requires loading the new garage door spring with tension. This task may sound simple enough, but there are risks involved. Too much tension and the spring can go flying. To stay safe, only hire professionals to do broken garage door spring repairs.
The Dangers of DIY Spring Repair
Garage door springs are influenced by powerful dynamic forces and replacing or adjusting them is not a do-it-yourself kind of job. If you lack the experience and the skills necessary to complete this task safely, or if you don't have the proper tools, you could get seriously injured by trying to do this on your own. This is why it's so important to call a nearby garage door spring repair expert. These sort of problems can be dangerous. Garage Door Repair Miami when you suspect there's any type of problem with your springs. We'll make sure they are completely functional and that using your door is safe.
Garage Door Spring Repairs Nearby
If a broken garage door spring keeps you from using your door safely, give us a call. Let the nearest pros handle your garage door springs replacement to ensure the problem gets dealt with quickly and with no risks. Whether you have extension or torsion springs, the service you need is a phone call away. Garage Door Repair Miami is ready to help all nearby homeowners. Call today to get same day spring repairs from experts near you.
Q&A Section
What should I do if my garage door spring broke?
If one of your springs has broken, you should avoid using your garage door as much as possible until it's been replaced. Even if the door can still open, doing so with broken springs will put a lot of stress on your other door components and risk breaking them as well. Get the springs replaced as soon as possible, and get a professional to do it. Garage door spring replacement is dangerous, and should not be attempted by amateurs to avoid getting hurt by them.
How long do garage door springs last?
Extension springs (the kind that point away from the door) tend to last for about 7000 opening and closing cycles. Torsion springs (the ones mounted above the door and parallel to it) usually last between 10,000 and 15,000 cycles. Assuming an average of two opening and closing cycles per day, this means a lifespan of about 10 years for extension springs or 15-20 years for torsion springs, assuming no mishaps that cause them extra damage. Of course, these stats are taking maintenance into consideration, which includes spring lubrication and adjustment on a regular basis.
Can I replace a broken garage door spring myself?
If you need to ask that question, then the answer is likely no. Spring replacement is the one garage door repair project that should not be attempted by a layperson. A spring or spring fragment that comes loose will often do so at very high speeds, and botched DIY spring replacement attempts are the cause of hundreds of serious injuries and many thousands of dollars in property damage every year. This is a task for trained professionals only. A garage door spring can cause serious injuries when it snaps. Not to mention, the garage door can drop suddenly, as it relies on the springs for lifting and balancing it.
Additional Garage Door services:
Garage Door Opener Installation
Roll up Garage Door Maintenance
Garage Door Spring Maintenance