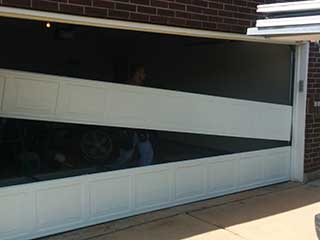 If you own an automatic overhead garage door, you should make sure you know where to find professional maintenance services for it near you. Garage doors are simple to operate, but this belies their mechanical complexity, and complex machines have failure points. The Garage Door Repair Miami team offers a range of services to help local homeowners out. Some involve regular maintenance, others emergency repairs.
Garage Door Opener Care And Maintenance
A garage door opener not working will mean that nothing else in the door system can work either. Openers start the process of both raising and lowering the garage door, and regulating the release and compression of the powerful springs. Programming and setting malfunctions, engine or drive jams, and damaged wires or circuit boards are all possible opener issues, and their remote control antennae can also fail. Garage door opener repair is one of the most commonly needed garage door services. Every ten to fifteen years or so, it will be time for a new garage door opener installation. Even a high quality and well cared for device can only last for so long.
What's Up With Your Springs?
Broken spring repairs and replacements are another very commonly needed garage door service, and this is one you should absolutely never attempt alone! A broken or loose garage door spring can be highly dangerous, and people are hospitalized or killed every year in amateur replacement attempts. Get a nearby professional – or better yet, a team of them – to have a look if you think your springs are having problems.
Proper Garage Door Spring Maintenance
Making sure your door opens and closes steadily involves ensuring the springs are ok. While they will eventually break, that's impossible to prevent, you can do something to make them last longer. Torsion spring lubrication helps the coils twist more smoothly and will reduce the rate of wear and tear. Occasional tension adjustments will also help your garage door springs work in optimal shape. Remember that if the springs are squeaking a lot then they might be crying out for some oil. Either that or they're getting ready to break. Keep a watchful eye out for garage door spring damage and ensure you get them replaced as soon as you notice something's wrong.
Keeping Track Of Your Garage Door Tracks
An overhead door moves along a pair of tracks on a set of rollers attached to each panel or row of panels. A loose roller, wobbly or broken track or a strong impact can push your garage door off track, which means it won't be moving very well. Getting a garage door back on track means manually raising it out of the entrance, fixing whatever problem caused this situation, and then lowering it back into place.
Garage Door Replacement
If your door is old and falling apart, or if it's taken extensive damage from an accident or similar, you may want to replace it entirely. There are plenty of manufacturers on the market, both for individual components and complete doors. Local garage door companies usually have a list of door types they can support, including replacement. If you don't have an automatic garage door in the first place, think about changing that! Custom garage door installation can give you a personalized door that's just right for your needs and price range.
Know A Garage Door Company Nearby?
Keeping a good technician or company's number on hand is a necessity for any automatic garage door owner. Make sure you know one in your vicinity! That would be us, of course. Garage Door Repair Miami. Give us a call if you need any type of service regarding your automatic overhead garage door.